Activities in the Sorrounding Areas
Tulum was the place chosen by our ancestors to construct one of the most beautiful ruins of the Mayan legacy.

Tulum is magical, and you will be able to find it as you dive in its crystal clear cenotes, as you visit its fresh water springs, as you explore its majestic coral wall, or its tropical forest which is the refuge of a vast diversity of plants and animals.

Filled with cultural and natural activities, Tulum will not allow you to get bored, leaving you with many other things to discover for your next vacations.
Sports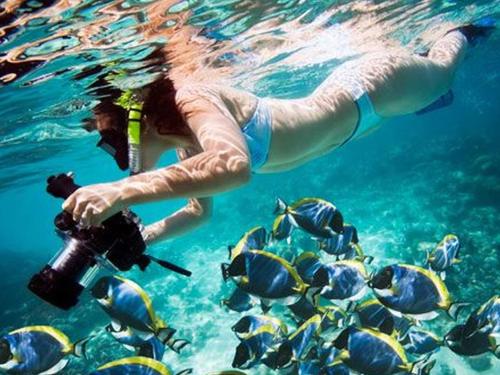 Snorkeling 

Snorkel in the beautiful Great Barrier Reef or in the Cenotes of the Riviera Maya in the Yucatan Peninsula you can live it at least once in your life.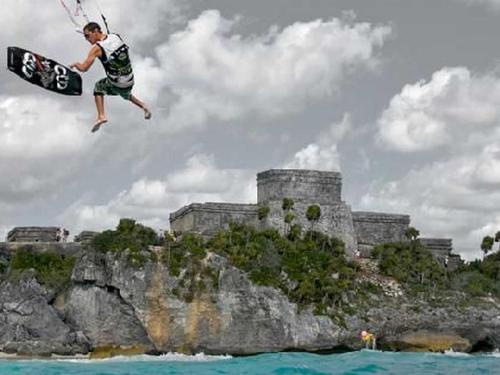 Kite Boarding 
Kite boarding is the ideal sport for your vacation in Tulum! The warm waters of Mexico and the tropical sun of the Caribbean are ideal for spending hours at sea or to learn kite boarding. You can book courses for beginners and for those who want to improve their level. Best time of the winter.
Kitesurfing Conditions:
The beaches around Tulum, offer great kiteboarding conditions and incredible scenary, perfect for kitesurfing lessons or courses in a kite school . The beach is one of prettiest of the Mayan Riviera. Soft white sand, no big rocks, shells or concrete and just a few people.
>
http://www.kiteboardmexico.com
Diving in Cenotes
The Cenote Trail
You will find many cenotes in and around Tulum. Cenotes are also known as sinkholes and are a natural marvel, feeding from underground streams and rivers that run under the Yucatan peninsula. The most popular cenotes are Cenote Las Mojarras, Cenote Siete Bocas, Cenote Boca Del Puma and Cenote Verde Lucero which are on the the Cenote Route but here wil talk about the ones near Tulum.
Grand Cenote
This is the nearest cenote to Tulum town center. It is stunning with crystal clear cool waters, and full of fish and turtles. You will also hear the the chatter of bats above! It's hard to believe until you see it with your own eyes! A nice change from the heat of the beach and warm sea water.
Location: 5 km from Tulum on road to Coba on right. Ladder steps lead to half moon shaped cenote decorated with small passages & openings. One of most popular sites as it is good for all ages as it is shallow on one side. It is famous for brilliant speleothem decorations & crystal clear water. Open: 10-5 Daily Facilities: Bathrooms Snorkeling: Fun. Fantastic. Spectacular. Paradise. Entrance Fee: 50 pesos.
Dos Ojos (Hidden Worlds)

Location: 48 km south of Playa Del Carmen south of Xel-Ha on the right. Then 4 km down a dirt road. This is part of the Nohoch Nah Chich cave system was the location of filming for Imax Journey into Amazing Caves documentary. Open: 10-5 daily Facilities: Bathrooms, restaurant. Snorkeling: Superb snorkeling with stalactites & stalagmites everywhere Entrance Fee: $10 US/$25-40 US for snorkel tours.
http://www.xibalbadivecenter.com/
">
www.xibalbadivecenter.com
Temple of Doom (Calavera/Skull)
Location: 2 km from Tulum on road to Coba on right down a very rugged jungle path There are three holes in the ground ? one is 30 ft & two are 4 ft in diameter creating the shape of a skull, hence the name Facilities: None Swimming: Great for swimming with a 10 ft drop down into the cenote. There is a rope swing & a ladder
Car Wash (Aktun Ha/Water Cave)
Location: 8 km from Tulum on road to Coba/4 km past Gran Cenote on left. You can drive right in approximately 30 m (100 ft) to cenote. It is called Car Wash because the locals used to wash their cars here. Open: 9-5 Daily Facilities: Bathrooms Swimming: Very easy access. Like a small lake. Good fun Snorkeling: Good in winter months. Too much algae growth in warmer months. Many small tropical fish. Entrance Fee: 20 pesos.
Cristal (Naharon)
Location: 4 km south of Tulum on right. Facilities: Bathrooms Swimming: Great Snorkeling: Great Entrance Fee: Yes. Includes entrance to Escondido across the street.
Escondido (Mayan Blue)
Location: 4 km south of Tulum on left/Across from Cristal Cenote/2 km walk in Jungle. This place is one of the least known and really beautiful and secluded. Facilities: Bathrooms Swimming: Good Snorkeling: Good Entrance Fee: Included in Cristal entrance fee.
If you want to dive cenotes we recommend the best in Tulum.
http://www.xibalbadivecenter.com/">www.protectulum.com
>
www.xibalbadivecenter.com
Adventure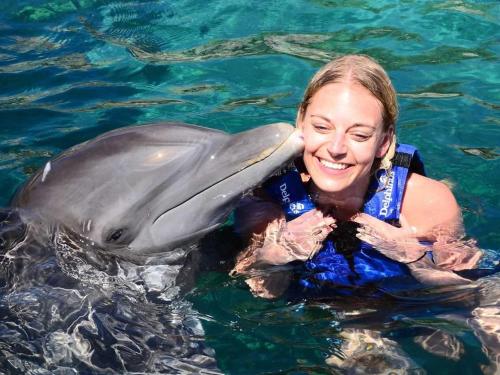 Swimming with dolphins

Several locations along the Riviera Maya have been carefully designed and are run professionally and dedicatedly to offer you a unique opportunity to swim with dolphins!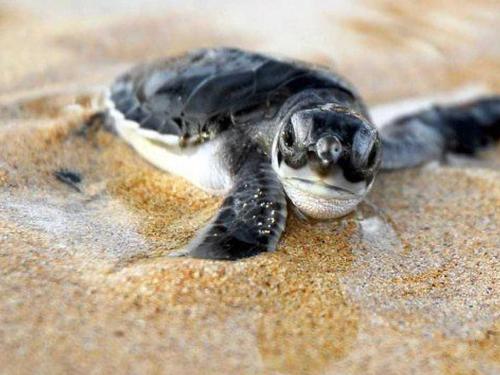 Protection of sea turtles
We have several places along the Riviera Maya that have been declared the Shrine of the Sea Turtles, like Tulum and Xcacel. And ?possible, in the period of hatching eggs that goes from August to late October, you can get to see the turtles on our beaches to lay their eggs and to help the new born turtles to get to the sea, is really a unique feeling.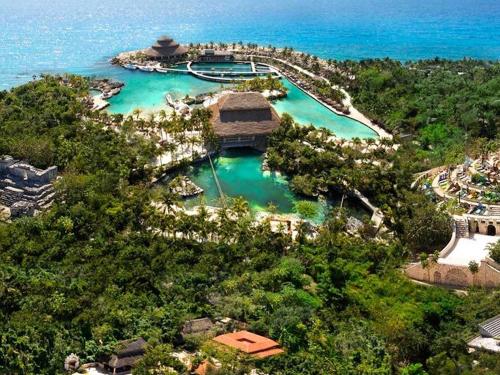 Natural Parks
If you have already been on the Tulum?s beaches or in the forest, you can try the natural parks of the Riviera Maya, excellent adventures for your day.
Xcaret ? Xel-Ha ? Aktun Chen
Culture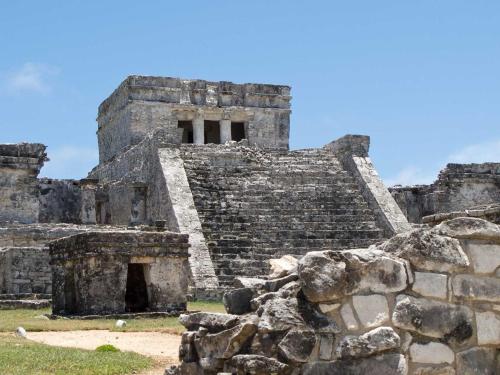 Maya Sites
We are surrounded by the most beautiful and ancient Mayan ruins, the nearest course to Tulum, the only archaeological site in the sea or rather on a cliff. Tulum in Maya means ?sea wall?. You can visit Coba (40km) where you can find the tallest pyramid in the Yucatan Peninsula, located deep in the jungle with a charming atmosphere. The most important archaeological site is Chichenitza (about 150km), a veritable city for Mayas.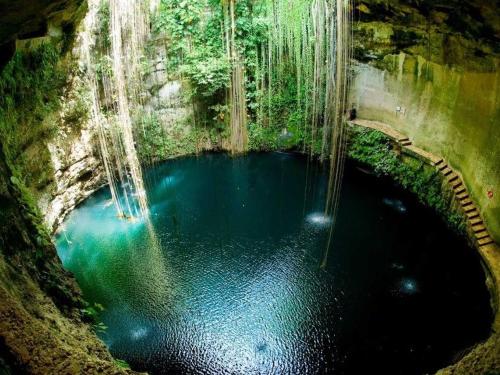 Cenote
Is a great wonder of nature, pieces of land sunk millions of years ago, where you can have a refreshing swim or dive in the world truly unique. The Yucatan Peninsula is full of cenotes visit them!
Sian Ka?an Biosphere reserve
Sian Ka?an Biosphere Reserve: A beautiful nature reserve, along the road for about 50 km you will find yourself in the middle of a unique natural spectacle in the world by a lagoon and on the other hand, the Caribbean Sea. When you reach Punta Allen you can rent a boat and take a tour in the beautiful lagoon where you can see animals of many different species such as dolphins, sea turtles and millions of different birds.
Entertainment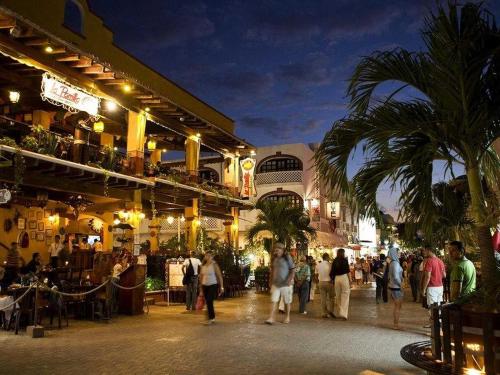 If instead of all the above you want to deal trips, you can go and visit Playa del Carmen where you can find on Fifth Avenue a lot of restaurants with all kinds food, all kinds of shops, bars, cafes and nightclubs, it certainly will not be bored.
We will recommend some of our favorite restaurants !! in Playa del Carmen .

Walking the famous La Quinta Avenue (5th Avenue) in Playa del Carmen can make decision making even harder than it already is. There are so many dining options to choose from and they all look so good. La Quinta is growing and the choices are always changing so it is always nice to have an idea where to go before you go. This is why I want to share with you Di Vino Restaurante Italiano , Pizza Renzo ,Sur , La Parrilla mexicana , Ula Gula , Cantina 20 ,La panaderia …